Oysters & Hearts – Diving for Pearls - Happy Valentine's Day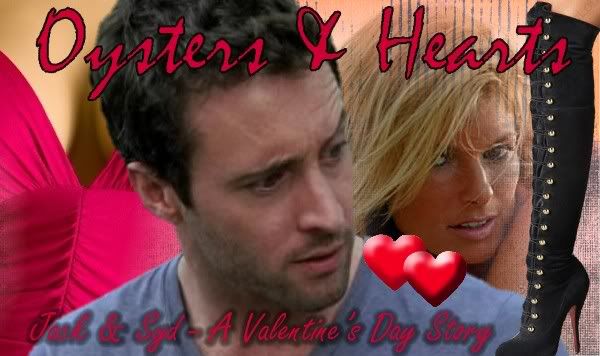 Jack, Brownie and Trish belong to Anna Reeves. Sydney and JJ belong to me. All the locations are real but the situations belong to my imagination. Thanks for reading. Comments are always welcome and appreciated. I promised an adult version of Jack and Syd. This will be continued.
Syd smiled down at her sleeping son and marveled at how much he looked like his father. She stroked blonde curls off of his high round forehead. He'd finally drifted off to sleep for his afternoon nap after a busy morning of making use of his newly discovered talent for walking. She quietly tiptoed out of the room and closed the door behind her just as the doorbell rang. Hurrying to the front door she saw the delivery man, holding a huge box in his arms. She assumed it was from her brother David in Chicago. The whole river community had celebrated JJ's first birthday just two days before and her brother called to say he was sending something for his only nephew. It hadn't arrived yet but he was always late.
She opened the door with a broad smile. "Hello Simon! This must be the package for JJ we're expecting from the US."
Simon juggled the big box around in front of him. "G'day Miz Flange. This 'n says it comes from Sydney 'n it's addressed to ya' luv." He grinned as he held it out for her to take. He gave a low whistle and winked. "From Chifley Plaza no less." Chifley Plaza was an exclusive centre in Sydney that housed pricy stores for high dollar tastes.
Syd took the parcel from his hands. "Well! I wonder what I did to deserve such a big package?" She could barely get her arms around it as she took the box from him and set it on the floor beside her. "Hold on a sec Simon." She motioned with one finger for him to wait and opened the drawer of the table by the door. She pulled out some money and placed it in his palm.
Simon grinned and tipped his hat. "Thanks Miz Flange! Give Jack m' best and kiss that little nipper fer me, will ya'?"
"I will!" She waved good bye and closed the door between them. Syd inspected the box and checked the name just to make sure. The parcel was quite bulky but not particularly heavy for it's size. She did all the usual things one does to a mystery package trying to get some clue as to what it contained. She looked it over carefully, shook it, sniffed at it and held it against her ear as if it had anything recognizable inside she could hear. Putting it down on the sofa Syd stepped back to eye the huge box with her chin in hand. Should she open it now or wait until Jack got home? Her phone rang at that minute and she quickly answered when she saw it was Jack calling. Her heart still skipped a beat at the sound of her husband's voice.
"G'day buggerlugs! Whatcha' ya doin'?" The sound of heavy equipment, working men and motors rumbled in the background.
"Missing you…" She cooed in the phone. "Sounds like you're working hard?"
He laughed. "Yeah yeah, I'm workin' hard… to keep from workin'!" His voice turned softer. "What's my lil sprout doin?"
Sydney sighed in relief. "Taking a nap… thank God! He's kept me on my toes all morning. Seems like he's gone from walking, straight to running. I'm exhausted! This child is going to be a real handful… like his daddy. Where are you?"
"With Brownie and Mumbles at Mooney Mooney stackin crates for the fish mawket tamarra. Why, didga' think I was up to no good?" Jack chuckled before he changed the subject. "Ay, did anythin' come to the house…like a parcel with yer name on it?"
Syd turned back to eye the substantial package sitting on the sofa just begging to be opened. "As a matter of fact…" She replied in a playful tone. "What'd you buy me Jack Flange?"
"Ay, I ain't tellin'! Ya gatta open it ta' see!" He taunted her. "Ya know, ya been a pretty good girl so I thought ya deserved a lil' sumpthin' special."
"Ohhhhh, I knew there was a good reason I picked you out of all the men in the world!" She teased before asking. "You don't want me to wait until you get home? Uh... by the way…when are you coming home? I kinda miss you. You snuck out of here early this morning and I didn't get to say good-bye."
"I didn't have the heart to wake ya." The sound of a crane was drowning out his voice as he shouted. "I'll be home in a coupla' hours. We're almost finished." Syd strained to hear him over the racket. "Open yer pressie and I'll see ya' as soon as I'm done here, fair dinkum buggerlugs?"
"Fair dinkum." She repeated before adding in a soft tone. "I love you Jack."
"What'd ya say luv?" Jack shouted. "These bloody nongs are a noisy bunch, say it again."
Syd shouted over the phone. "I said… I LOVE YOU JACK!"
He threw his head back and laughed. "I heard ya the first time but I just wanted ta' hear ya' say it again. I love you too buggerlugs." He quickly added. "Now go open yer pressie before the little ankle biter is up tearin' through the house. I'm eagah for ya ta' see what I got ya."
They disconnected after saying their good byes and Syd turned her attention back to the box. She laid it flat on the coffee table and ran her hands slowly across the length of it to admire it once more before tearing through the brown wrapper.
The logo on the top of the box had an etching of the plaza's elaborate Victorian building with the words "The exclusive shops of Chifley Plaza." There was a gift card taped on the top with her name written across it. The card was an embossed red foil heart on glossy black cardstock. She traced the heart with her finger and smiled as she opened it and read the words Jack had dictated to someone else's elegant handwriting.
"Buggerlugs – I'll be one lucky bastard if you'll be my Valentine?
Love me? Jack"
She laughed out loud and quickly covered her mouth so she didn't wake JJ. The note made her even more curious to see what was inside the massive box. She opened the lid to find more boxes inside. The first one she pulled out was from the exclusive Varese Shoes, unwrapping their elegant red paper to reveal a large box embossed with the silver logo of Christian Louboutin. She quickly opened it to the exquisite smell of new leather. Inside was the sexiest pair of gorgeous black Italian leather suede boots with five inch candy apple lacquer red spike heels and soles. They were over the knee, sleek and form fitting with multiple gold metal fasteners running up the front. Absolutely the most gorgeous pair of boots that Sydney had ever seen. She rubbed the velvety soft hide between her fingers while she caught her breath. She couldn't wait to try them on! The skinny extremely tall spiked heels shocked her and she giggled thinking about how she would have to teach herself to walk on them. Living on the river and chasing after JJ afforded her the comfort of espadrilles or sandals most of the time. Tall skinny spikes would take some getting used to. She stroked the supple suede one more time before she laid them aside and turned her attention back inside the main box.
A smaller box from "The Witchery", another exclusive store came out next. Syd had looked through their catalogs before but she'd never purchased anything. Her life on the river with Jack and her baby had replaced any desires for the finery she'd left behind when she came to the Hawkesbury. She seldom thought about designer clothes and high fashion anymore. The important things to her now revolved around a working man's river and the fairly simple life of being a mother and the wife of an oyster farmer. She'd never regretted trading the glamour for the treasures she had found in this tiny cove of the river. Syd opened the small box and folded back the red tissue to find a very tiny lacy pair of see-through boy leg cut bikini panties with a matching push up bra, a tiny garter belt and long sheer black patterned stockings. This was definitely Jack's idea – obviously for display purposes. She giggled as she held them up. It sure wasn't her comfy little cotton undies she had grown so accustomed to wearing every day. The thought of modeling them just for Jack made her tingle all over.
Next, a bigger box from Max and Co, another exclusive clothing store. She opened it to find a form fitting mini dress in bright red leather. Along side it was a soft supple short black leather jacket with buckled trim at the waist and on the shoulders. She squealed when she held them up. It was obvious that someone had taken great pains to pick this outfit just for her and it was something she would never buy for herself because it was so impractical. Just thinking about wearing it thrilled her. Holding the dress up to her body, she ran her hands down the length of it which barely covered her thighs. She hurriedly slipped the jacket on and pulled the wide lapels up around her face as she hugged herself. The exotic aroma of new leather filled her senses. She couldn't remember the last time she had been this excited about getting a new outfit. Syd danced around the room in her new jacket as she held tightly onto the sexy little dress. She spun around to find Jack standing in the door grinning from ear to ear with his arms across his chest. Syd blushed with embarrassment then smiled back at him. Her eyes sparked as they met his and Jack's heart nearly burst with love to see the joy on her face.
"Looks ta me like yer' chuffed with the new duds?" He winked at his wife as she came running toward him with her arms outstretched.
Syd jumped into his embrace and hugged him tightly as she trailed kisses up the side of his neck and face. "Oh Jack! I can't believe you did this! I haven't felt this indulged in a long time! I love it!" She stopped kissing on him for a moment to declare. "You're back earlier than I thought you'd be."
"Wull… when ya said the package came I hadta' come home to see what ya thought. It was worth Brownie chuckin' a wobbly ovah me leavin' him in a lurch justa see the look on yer face." Jack snickered. "Besides, seein' ya dance around like a true Bobby Dazzler was worth ev'ry whinge that barstard has ever made!" He pulled Syd close to him and kissed her. "Are ya happy luv?"
She smiled up at him as she stroked the leather sleeve of her jacket. "Am I? I love it! It's so…so… ridiculously wild and crazy!" Her face glowed. "OK, when can I wear this? Not exactly something I would wear to go traipsing into Brookie's on a Saturday night without setting the whole town on it's ear."
"I dunno, I betcha those rat barstards would nevah forget it if ya did." He grinned as he kept her trapped in his embrace. "The pervs go on about ya behind my back when ya wear cut offs and one o' my old shirts. Imagine the shit storm it'd fire up if ya walked through the doors wearin' this get up?"
Syd laughed. "Yeah and imagine the gossip I'd cause when I got one of those five inch spikes caught in that rickety old warf?" She pulled back to look him in the eye. "Come on Jack…there's more to it. I know you too well. What's up?"
"I guess yer gawna hafta trade me in on a new model since ya got me all figured out, huh?"
"Nuthin' doin' Flange!" Syd poked at Jack's chest. "You belong to me! Now… fess up! What's up?"
Jack locked his fingers together behind her waist and swayed her side to side in his arms as he looked at the ceiling and sighed dramatically. "Ah… let's see now… how 'bout a weekend in the big smoke and a suite at the Hyatt with room service, spas, massages and all the pamperin' ya could get in two nights and three days? How's that fer starters?" He grinned as her eyes lit up again.
"That would be heaven on earth! But…"
Jack held one finger against her mouth to silence her. "Ay – I'm not finished yet! Dinner out to the fanciest restaurant in town… aaaand…" He gave a long pause as he reached in his back pocket to fish out a long white envelope which he held up for her to see. "…tickets ta see Kings of Leon and The Jets, live in concert!"
Sydney let out a squeal and bounced up and down using Jack's shoulders for leverage. "Oh my gawd! How did you score those tickets? They've been sold out since the day they went on sale over a month ago!"
Jack had a smug look on his face as he chuckled. "Ay, I got my ways. Ya know I'm gettin' aces on that lap top when I gotta reason." He gently kissed her forehead as he stroked her hair. "I knew how much ya wanted to go see 'em. I couldn't give up 'til I got those tickets."
She squeezed him tighter and buried her face against his chest. "Oh Jack. What'd I ever do to deserve you?" She nuzzled against his t-shirt and felt his heart beating against her cheek as he stroked her hair. Suddenly she pulled back away from him again. "JJ!" She exclaimed.
Jack chuckled. "Yeah, I know the little nipper. What about him?" He brushed the hair from her face with his fingers as he gazed into her eyes and grinned.
"What are we going to do with JJ?" Syd grabbed the sleeves of his t-shirt and tugged at them. "I'm serious!"
Jack teased. "Well he's just gawna hafta fend for himself sooner or later. What is he now… a year old? He's gettin ta be a big enough ta stay by himself!" He smirked as Sydney giggled and playfully punched his arm before he started to laugh. "No worries! I got it all taken care of. Miz Sweet is comin' ta spend the weekend. She's offered 'n she's been jumpin' at the chance ta spend some time with 'im so now's as good as any."
"Are you sure Trish wants to do this? He's moving pretty fast now and it's been a while since she's dealt with a toddler..." Syd's voice sounded hesitant.
Jack tilted her chin up with his fingers and looked squarely into her worried eyes. "Syd, Miz Sweet is comin' to take care of JJ and yer gawna go away with me. Final." His voiced softened. "Ya know she'll take real good care of our boy 'n spoil 'im rotten to the core!"
Syd smiled down sheepishly. "I guess I tend to get a bit over protective, don't I? I know Trish will take excellent care of our baby boy." She patted Jack's broad chest then playfully shoved him. "OK… You talked me into it." She snatched the tickets from his hand and studied them carefully. "Jack! The concert is tomorrow night!
Jack nodded with a mischievous grin. "Whaddaya know?"
Syd put her hands on her hips and huffed in exasperation. "Well, that doesn't leave me much time!"
Jack shrugged his shoulders. "Whaddaya' need time for? Ya got new clothes and JJ is gonna be in good hands. All ya gotta do is get yer sweet lil date ready ta go!" He flicked her chin with his finger and grinned. "No worries luv!"
Syd couldn't find another reason to argue. She learned early on when Jack made up his mind there was no changing it. Just thinking of the two of them being able to go off by themselves was enough to convince her. She trusted Trish totally with JJ and he loved the Sweetwaters. They were the only family he knew. She grinned at Jack as she clutched the new leather in her arms and wrinkled her nose impishly. "Guess I better get a move on it, huh?" Once more leaning into him she lightly stroked his cheek. "Have I told you how much I love you lately Jack Flange?"
He pulled her close tangling his fingers in her hair. With a low growl, he whispered in her ear. "Ya have buggerlugs - but I'm waitin' for ya to show me."
He could always make her giggle like a school girl when he played the big strong cave man. Her Jack, her hero, her lover and the only man in the world that she could ever dream of loving so completely. Chills ran down her spine as she thought of their bodies tangled together in the heat of passion. It still made her weak in the knees. She whispered back in a seductive voice. "You just wait Jack Flange, I'll show you, I'll show you real good."
Jack slipped his hands under of her shirt and inside her bra. Her nipples hardened with his touch as his tongue found its way inside of her eager mouth. "God, I can't wait to see what ya look like in all that leather." His hands explored her body. She reached down between his legs and wrapped her hand around his hardness. A low moan escaped from her lips as they pressed against his. "Oh Jack..."
Jack started to lift her onto him as the doorbell rang. They pulled away from one another with an exasperated sigh as they both turned their heads to see Brownie pounding his fist on the door.
Jack rolled his eyes. "Look's like the shit musta' hit the fan down at Mooney Mooney." He winked at Syd as he reluctantly left her side and headed to answer the door.
He swung it open just as Brownie was about to pound his fist against the door panel again nearly hitting Jack in the face. "Ay ya smarmy barstard! Ya damn near king-hit me mate! What the hell happened to get you all buggered up?"
"Why dontcha' ask that bloody no hoper of an ol' man what went wrong?" Brownie's eyes were lit up with fury to match the frustration in his voice. "The rat barstard ordered yer crew to drop a crate too fast and the whole crop blew! A whole damn crate fulla' oysters – blown to hell! Now we gotta go through and repack 'em again before we head to mawket at sparrow's fart!" Brownie noticed Syd standing behind Jack and lowered his tone as he politely nodded his head. "Afternoon miz Flange, uh Sydo… Sorry 'bout the interruption." He turned back to Jack with a pleading tone. "I need ya' back down there to straighten this out before I kill that stupid ol man for good!"
Jack turned back with an apologetic look for his wife before he faced Brownie. "Calm down mate. I'll handle it. Ain't he supposed to be yer kin? Why do ya think I'm the one who should deal with 'im?" Jack sniggered, knowing what Brownie's reply was going to be.
"Caz he likes you better and he listens to ya!" Brownie lowered his voice and begged. "Come on mate!" He whined. "Yer gawna' have a whole weekend ta make kissy kissy with the wifey all by yerselves. The least ya can do is save that scrawny ol man of mine from losin' his life before I choke the ever livin' shit outta 'im!"
Jack burst out laughing as he slapped Brownie on the shoulder. "OK! I'll come with ya' mate. I dawn't want ya to kill off my drinkin' buddy jus' yet." He turned around and grabbed Syd to give her a quick kiss as he muttered softly in her ear. "We'll pick up where we left off ta'night, 'k buggerlugs?" He cupped one of her buttcheeks in his hand and gave it a quick squeeze as Brownie groaned in the background.
Syd nodded and grinned. "You two boys behave yourself." She directed her attention to Brownie as she asked. "We'll see you and Trish tomorrow Brownie?"
"Ya betcha Miz Flange. I get ta watch the cricket match on yer big screen tube!" He waved at her as Jack and he walked out the door together while he carried on. "Why do ya gotta play grab ass in front o' me Jacko? Ain't the two of you evah gawna get over that silly shit?"
She could hear Jack laughing while they walked down the stairs together arguing with one another. "Not if ah can help it! Didn't the ferret in m' daks give ya a clue o' what ya interrupted shit fer brains? Yer damn lucky I answered the door…"
Closing the door behind her, Syd giggled at the thought of the two old friends and what they meant to one another. Brownie's emergency wasn't too much of a let down because probably before they finished what they started the baby would've woken up. She ran her hands down the sleeves of the buttery soft leather once more. Her inner child came out with a little squeal as she pumped her fist. "Yes! Kings of Leon! Jet!" She danced around the room one more time before hurrying towards JJ's room when she heard him stirring from his nap.
~~~~~~~~~~~~~~~~
The rest of the day seemed to drag by for Jack and Sydney. That night after tucking in JJ for bed they finished what started so passionately in the living room before Brownie rudely interrupted them and later talked endlessly about what they were looking forward to the next day.
~~~~~~~~~~~~~~~~~~~~~
When Jack and Syd arrived at their luxurious Park Hyatt suite, they went straight out to the balcony to admire the architectural sails of the Sydney Opera House. The amazing building lit up the harbor, directly across from where they stood. No matter how many times they saw the structure, it still took their breath away. Both of them had roots in Sydney. Jack grew up here and Sydney was named for her mother's birthplace so every time they came down to stay, it was a homecoming. Sydney was the very first place they had laid eyes on one another. The city would always hold a special place in their hearts.
Sydney leaned over the railing and sighed. "My mom must've really loved my dad to leave this all behind and come to America. I don't think I could ever leave such a beautiful place if I were her."
Jack swept away the hair from the back of Sydney's neck and kissed her warm flesh. "Mmmm, well I'm grateful she did." He nuzzled her. "Caz, if she hadn't… l would be nibblin' on some strange Aussie woman's ear right now 'n it wouldn't taste near as good as yers." She giggled while he softly chewed on her earlobe as they walked back inside their suite.
The room was richly decorated in shades of rich cocoa brown, beige and champagne. Their bed seemed to be larger than a king. It was more like a small playground. Jack tried to coax Sydney onto the plush chocolate bedspread but she looked at her watch and held it up for him to see. "Jack, we have to be at the Centre on Harbour St. in less than two hours and we aren't even dressed yet." She tapped her foot impatiently while he ignored her as his hands explored her body. She grabbed his wrists, through gritted teeth she smiled. "Believe me Flange; you'll want this a lot more after I see the Kings of Leon and Jet in concert. I promise you." She flicked the tip of her tongue to the end of his nose as he attempted to pull her in closer. She used both hands to push him away. He finally stopped when she whispered seductively in his ear. "Jack…you know what rock and roll and leather do to me…don't you?"
Jack sighed and grumbled. "How am I supposed to get rid o' this in the meantime?" He guided her hand and placed in on top of the obvious bulge in his jeans.
Sidney giggled as she pulled away and teased. "Flange, you have no self control do you?" She reached over and picked up her overnight bag. "Now get! I have a whole lot of new leather to put on and I can't do it with you breathing down my neck."
Jack sighed as he grinned at his wife. "Yer a real battler when it comes ta gettin' yer way buggerlugs." He gathered up his luggage and headed into the sitting room so Sydney could have the bedroom and dressing room to get ready in. He called out as he dramatically threw his wardrobe bag over his shoulder. "I'll be in the next room if ya change yer mind… just whistle…I'll be right there." He muttered under his breath as he walked away. "With a ragin' hard on…"
Sydney smirked as he slumped out of the room but she still showed absolutely no mercy for his situation. She heard him turn on the television set and called out. "That's it Flange, watch your game…that'll get your mind off of your troubles. Just don't forget to get dressed!"
He called out in a mocking tone. "Yer a real boss cocky, ya know that?"
Sydney laughed and unzipped her wardrobe bag to pull out her brand new clothes. "All the more reason you love me so much!" She didn't tell Jack she was already wearing the bra and panties. She put them on just before they left the house to save some time. He would have pulled the SUV over on the side of the road on the way to Sydney and attacked her if he knew. She felt naughty enough knowing she was wearing such revealing underwear under her normal street clothes as she kissed her baby son good–bye and talked to Trish and Brownie about where they would be and when they'd be home. The snug fitting sheer panties exposed her bare behind and the sheer fabric revealed everything else. The bra pushed her ample bust up high and her nipples almost peeked over the top of the low cut cups. She undressed and stood in front of the mirror to stare at herself as she slowly did a half turn to see her naked bottom. Jack was going to love these.
After putting on her make up and curling her hair she pulled the garter belt out and snapped it around her waist. Sitting at the dressing table, she carefully slipped on the black textured stockings lifting each leg in the air she ran her fingers along the length of them to smooth the sheer fabric. She carefully attached the garter belt to the tops. She slipped the tight red leather dress over her head and shimmied into it. It surprised her how the waist molded into her when she zipped the sides up. The plunging neckline accentuated her rounded cleavage. She turned and took a long look at her backside. The dress firmly hugged her body and made her butt look amazing. She grinned as she grabbed her backside and wiggled her bottom in the mirror. The leather felt wonderful against her naked flesh. Next she slipped into the form fitting spike heeled boots. It took her nearly ten minutes just to hook each gold button front closure. The tops were so tall that they went a couple of inches above her knee caps. She ran her hands down the length of them and wrapped her fingers around her ankles to make sure they were snug enough to stand on. Once she decided they were, she stood up perhaps a bit too quickly. The spikes were so high and skinny she wobbled slightly to stay upright. What if she toppled over in public? The thought made her giggle as she practiced walking back and forth in front of the full length mirror. After a few times she started to be able to find her balance.
The final touch was when she slipped the short leather jacket over the tight little dress. Syd piled her hair up on her head and let wispy tendrils casually fall down around her face and high collar. She added the wide gold mesh choker Jack had given her last Valentines Day with matching gold drop earrings to complete her look. She turned around to view every angle and took a deep breath before she headed for the sitting room and her waiting husband.
Jack was quietly sitting in an overstuffed chair with his feet up on the ottoman. His face was resting on his hand as he sat watching the cricket match. He could feel her eyes on him before he even looked up and when he turned his head slightly to see her, his expression gave him away. Sydney looked like the goddess of his dreams. She stood there tall, graceful with a body that any man would fall to their knees in worship for and the face of an angel. There were no words that could come to mind as he sat dumbstruck and under her spell. So what if he just spent close to 10K for a whole lot of calves' leather? It was worth every cent to see her standing there before him. Finally he spoke. "Holy shit…"
She carefully and slowly turned around still cautious about the spindles she was balancing on. "So you like it?" She grimaced with shy smile.
Jack jumped up from the chair and nearly stumbled over the ottoman trying to get closer to her. He looked so handsome in his distressed leather jacket, tight dark blue Levis and a double knit blue pullover that showed off his well defined pecs. Before he could reach out for her she held hands out and placed them flat against his chest. There was a fire in her eyes. "Jack, you look so handsome!" Her voice was raspy like it always got when she was aroused. "You smell good too!"
He ran his hands down the arms of her leather jacket and attempted to cup her breasts in his eager palms. "Gawd buggerlugs! I cawn't see me lasting through a whole concert lookin' at ya this way Syd! I just won't be able to!" He sounded like a child that was being forced to eat spinach before he could have dessert.
Syd threw her head back and laughed as the scent of her perfume filled his senses. She slowly ran a single finger down the center of his chest. "Oh Jack…You're such a big strong man." She teased. "I know you'll be able to make it." She poked him hard in the center of his breastbone and grinned. "Besides, I found the receipt for the tickets…we're not wasting that kind of money – no way! We're both going to have to suffer and make up for it later. No wonder you were able to get such good seats Flange." Using one finger she beckoned him as they walked towards the door. "Come on, we're going to be late."
"Yer walkin' aces in those boots luv." He watched her fine looking arse as the sway of it hypnotized him to follow her out the door.
"Well you should've seen me practicing. It wasn't quite this sexy." She gave him a throaty laugh. "Have you got our tickets?"
He patted the breast of his jacket. "Gottem' right next to mah heart buggerlugs. Are ya sure ya don't wanna stay here and let me fuck yer brains out?"
"Nice try Flange. Good things come to those who wait you know?" She sniffed.
He sighed heavily as he closed their door and checked to make sure it was locked. "So they say… the comin' part is the only thing that keeps me goin'" he smirked.
It was less than ten minutes from their hotel to the Sydney Entertainment Centre on Harbour St. If it weren't for Syd's ridiculously high heeled boots they could've walked it in less than twenty. Besides, Jack knew that the rocker girl outfit would cause a traffic jam. He was ready to burst with pride with how breathtakingly sexy she looked. It was all he could do to keep the SUV on the road and keep his eyes off her. It was very apparent on how hot she looked when they encountered a group of mates standing outside the Centre. They started to mumble and nudge one another with low whistles and rude sounds as Jack and Syd walked past but quickly grew silent and looked away when Jack gave them a warning with his eyes. He put his arm protectively around Syd and pulled her close in to him as they entered the doors. She looked up at him and smiled gratefully as she laid her hand gently on his chest. She was so proud of him and it always thrilled her when other women stared at him. He looked exceptionally handsome tonight and she noticed all the women turning their heads as they walked by the crowds of people waiting for the concert to begin.
The centre was bustling as Jack and Sydney found their seats very close to the front stage. Jack spent most of his time staring at Syd's long legs with those incredibly high laced up boots. She laughed at his expression. "What are you so surprised about? You're the one who picked them out aren't you?"
He grinned with embarrassment. "Wull…yeah yeah I did but… I dunno… seein 'em fer real is… well it's sort of a religious experience!"
Sydney laughed and seductively crossed her long legs and kicked her foot out to show them off to her husband. He sucked in his breath sharply and placed his hand over her thigh and squeezed it tightly as she gently rubbed his arm. The lights lowered and Jet took the stage. The music was loud and their old fashioned garage band sound reverberated through the entire building and all the audience was on their feet dancing and swaying by the time they got to their signature "Are You Going To Be My Girl?" Jack pulled Sydney into his arms and hugged her tightly as the lead singer bounced the lyrics off the crowd.
Oh, four five six - c'mon and get your kicks
now you don't need that money
when you look like that, do ya honey?
Big black boots,
long brown hair,
she's so sweet
with her get back stare.
Well I could see,
you home with me,
but you were with another man, yea!
I know we,
ain't got much to say,
before I let you get away, yea!
I said, are you gonna be my girl?

After Jet finished their set there was a short intermission. Sydney wanted to give Jack a little treat for giving her such a wonderful weekend. She tugged on his sleeve and told him she needed to use the restroom. He wouldn't let her go by herself so he walked with her to the lobby. When she came back out Jack was waiting close by the door. He smiled and pulled her next to him as he kissed her forehead. She grinned as she slipped something into the pocket of his leather jacket. He glanced down with a puzzled look on his face. She pulled on his lapel and whispered. Wait until we get back to our seats where it's dark. He gave her a crooked smile as they headed back to the auditorium. The lights went down and the crowd cheered wildly as the curtains came up and Kings of Leon started playing. They started with "Be Somebody" which Syd had been playing all month on her i-Pod.
After the excitement of their opening song the crowd settled down and took their seats to watch the band perform. They started to sing "I Want You" when Jack dug into his pocket to pull out what Syd had so cleverly tucked away. She watched out of the corner of her eye as his eyes widened and a grin crossed his face. He tightly fisted her skimpy black see through panties on his lap and looked sideways at her as he let out a devilish chuckle. She smiled back and placed her hand on top of his other hand which was gripping the arm of his seat. He discretely tucked her panties back in his pocket as she pried his tense fingers from the arm of the chair and gently placed his hand on her lap. As the music played and the crowd cheered around them, she slowly parted her legs and gave him an approving downward nod. Jack gave her a grateful look as his fingers slipped under her skirt until he felt the wetness between her thighs.
She watched him as he closed his eyes and licked his lips nervously. He let out a jagged sigh as his fingers explored his wife's folds with his agile fingers. The idea that she so willingly offered herself to him like this in the middle of the crowded arena filled with thousands of unsuspecting people close by was more than he'd ever dreamed of. She leaned towards him and whispered in his ear. "Happy Valentine's Day Jack." All he could do was groan as he dug his fingers deeper inside her. She squirmed on his hand as he found her hard little pearl and rubbed it between his thumb and index finger. She mewed to the music as he rubbed it harder until she was pushing herself deeper onto the palm of his sopping wet hand. He felt her warmth contracting around his probing fingers. Her head jerked back slightly as she bit her lip and fluttered her eyelids. She grabbed onto his wrist and held him firmly between her thighs until the moment passed before she slowly released her grasp and sighed deeply as she watched his expression through heavy lidded eyes.
Jack was ready to explode with desire for her. The Kings of Leon started first verse of "Sex On Fire" and the crowd was on it's feet cheering. Jack took this opportunity to grab Sydney and practically carry her down the aisle toward the red exit signs. As the Kings of Leon sang in the background.
Lay where you're laying
Don't make a sound
I know they're watching
They're watching
All the commotion
the kiddie like play
Has people talking
Talking
You
Your sex is on fire

Syd was out of breath by the time they reached the exit doors. She grinned at Jack. "I take it you liked your Valentine's Day treat."
Jack wasn't smiling. His eyes seemed glazed and fixed. He wasn't looking right or left, he just pulled her faster through the parking lot searching for their car. Finally spotting it he pulled Syd along like a rag doll until she started tugging back to slow him down. "Jack! Slow down! I can't run in these boots!" He didn't say a word but scooped her up in his arms and ran with her like they were on fire until they reached the passenger side of their SUV.
He put her down and pushed her up against the door of the car with the weight of his body as his hands raced over every inch of her long sleek form. The pulse of the song was still fresh in his head as he crushed his lips against hers. She could feel his hardness grinding against her pelvis and his breath was moist and warm against her flesh. "Goddamn Syd!" He growled roughly. "I'm so fuckin' turned on I could take ya down right here on the parking lot."
She grabbed onto his shoulders and anchored herself to the ground with her feet apart as he pushed against her with a fervor she had never seen from him. She caught his face between her hands and made him focus on her eyes. "Jack, let's get in the car… now!" He quickly clicked the key remote and grappled for the door handle as he kissed her again before she climbed in the front seat. She watched as he hurried around to the other door and let himself into the drivers side. He anxiously pulled her toward him again.
Quietly she smoothed the side of his hair with her hands as she cooed softly. "My my, I think I released a cave man didn't I?" He shook his head in agreement as he eagerly traced the length of her body. She trailed her hands down his arms until she found his. As she gently pulled them away from her she made a shushing sound. "Calm down baby, I want to give you something." She gently pushed him back as she released the back of seat and it quickly reclined. He looked up at her with surprise to see her take over like this. Her hands busily unfastened his belt and he quickly took the cue and helped her release his throbbing cock from the confines of his tight Levis. It sprung out readily and she slowly licked the salty drop of moisture glistening from the head and swirled her warm tongue around the tip of it. She heard him gasp in ecstasy as softness of her lips made contact with his steely silken skin.
She smiled up at him as he laid back quietly watching her and softly stroking her hair. "We're going to have to do this quickly because that concert is going to let out at any moment." He closed his eyes and gently placed his hands on either side of her head as she opened her mouth and took in as much of his length as she could. With her free hand she pushed on the i-Pod as Kings of Leon's "Sex on Fire" happened to be the very first song that began to play.
The dark of the alley
The break of the day
Head while I'm driving
I'm driving
Soft lips are open
Them knuckles are pale
Feels like you're dying
You're dying
You
Your sex is on fire
Consumed
With what's just transpired

Jack moaned and pushed his hips toward her mouth as she gripped him tightly in her fist and slid her moist full lips up and down on his rock hard shaft to the pace of the music. It didn't take long for Syd to release the pent of sexual tension that Jack had acquired with their daring exhibition inside the arena among a throng of people. She held him in her mouth until he went soft and his entire body seemed to collapse from the release. He pulled her up against him as he laid in the dark. Their heartbeats seemed to synchronize with one another while they clung to one another for dear life. He whispered in a raspy tone. "Bloody hell woman, I love ya' so fuckin' much." He squeezed her tightly as she sighed and rubbed his broad chest with her hand.
About that time they could hear car engines starting up and people laughing and talking about the concert as they walked near their SUV. Jack and Syd both sat up as Jack adjusted his seat and Syd smoothed her hair. Just like Jack was able to bring Syd to an raging orgasm in the middle of a bunch of Kings of Leon fans without anyone noticing, no one was paying a bit of attention to them as they sat inside the privacy of their own vehicle. They both smiled at one another and held hands.
Jack put the keys in the ignition and started the car as he cocked his head toward Sydney. "Buggerlugs, yer' wearin' a hellava lot of leather and I'm not even done playin' with ya. I suggest we get our dates back ta the hotel and make use of all those fancy amenities we paid for. Whaddaya say?"
Syd grinned. "I say you better step on it Flange. I'm ready to start our weekend!"
Syd pressed the play button on repeat as "Sex on Fire" continued to play again.
http://www.youtube.com/watch?v=RF0HhrwIwp0
Hot as a fever
Rattling bones
I could just taste it
Taste it
But it's not forever
But it's just tonight
Oh we're still the greatest
The greatest
The greatest
You
your sex is on fire
You
Your sex is on fire
Consumed
With what's just transpired
And You
Your sex is on fire
Consumed
With what's just transpired
To be continued back at the Park Hyatt on Dawes Point.
Happy Valentine's Day!